Made using ultra-light and durable foam boards, your Canvas Prints are incredibly easy to handle. It's easy to move around and it barely causes any tension to your walls.
Due to its lightweight nature, the Canvas Prints' weight will not harm anyone or anything should it accidentally fall off its placement. The foam board also offers a fine smoothness to its surface and will not become loose over time.
We have removed our Photobook logo so that the focus will always be the art work. This is great news especially if you're a reseller, artist or photographer, because you can now pass on our premium canvas prints to your clients without having to attach a sticker. This makes it easier for you to forward your work using our high-quality printing and superior materials.
Easily maintain your Canvas Prints by lightly wiping away dust with a damp cloth. Its low moisture absorption enables you to hang beautiful artwork in high humidity areas like your bath or kitchen.
The Canvas Print is also tough against mold, mildew and fungus so you'll never have to worry about unhygienic conditions.
Your Canvas Prints are protected from colours deteriorating over time due to elemental exposures such as light and moisture. This ensures clear cut images and a long-lasting, premium photo product. Rest assured that your best moments will continue to look just as good as when you first got them.
Your Canvas Print is good to go from the moment you receive it. Eyelet holes are prepared for your convenience, ready to be hanged on your wall. We also provide complimentary dowels should you choose to make your smaller sized Canvas Prints stand on a table or shelf instead.
You can design your Canvas Print to either be focused in the middle of it all, nicely secured in place; or wrapped around and breaking through the barriers. Keep it neat, or keep it funky, the choice is yours!
A New Standard in Quality
Some memories hold a special place in our hearts, and some moments deserve some special attention from us. Showcase those moments with our Canvas Prints, creating your very own personal art gallery. Featuring the sweetest moments of your life, be surrounded by portraits of loved ones or special occasions.
Uniquely engineered with high density foam boards that is strong, lightweight and moisture-resistant, you can experience vibrant and vivid colors, premium quality, intelligent canvas design and see firsthand why our Canvas Prints truly makes all the difference.
The Differences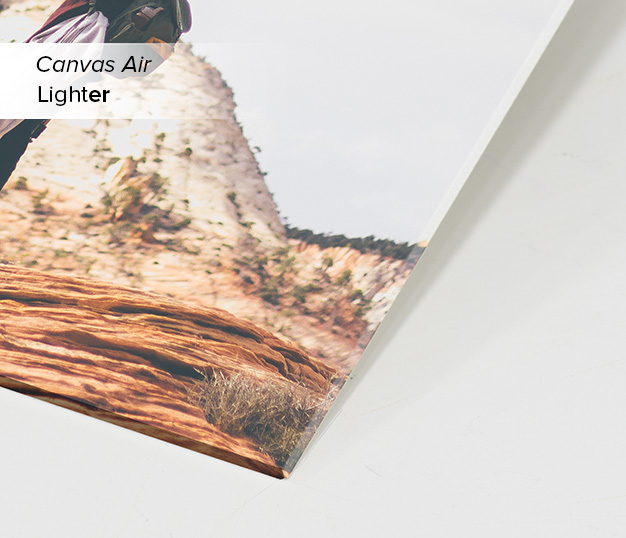 Material
Choose from two different materials for your Canvas. We have the Standard Textured which gives you a more classic Canvas impression whereas the Leather Textured offers you a very definitive leather-like composition.
Standard Textured
Leather Textured